After an intense two-month lockdown, we could all do with some good news, don't you think? We have just the right one for you. McDonald's India (West & South) is all geared up to open its doors to customers, complete with a whole new dining experience. We're talking safety and only safety this time around!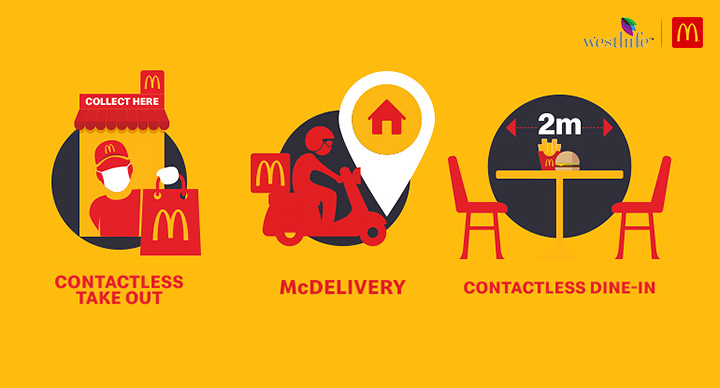 McDonald's India (South & West) has developed a new model that will ensure the safety of its customers and employees at every step of the way. For those who still have apprehensions, rest assured, because McDonald's is taking every possible measure to create a safe environment where everyone can relax for once. So, without further ado, here's everything you need to know about what's new at McDonald's restaurants.

The new and unparalleled 42-point checklist

With the new 42-point checklist, McDonald's will ensure that even the smallest of hygiene factors are taken care of. Thermal screenings for all the employees and customers will be done at the entrance. Every team member will don their protective gear and practice social distancing and frequent handwashing at all times. In addition to that, it will be mandatory for every staff member to have Aarogya Setu App on their phones.
When it comes to sanitization of the restaurants, McDonald's will not leave any stone unturned. Every common touch-point at the restaurants such as door handles, taps, kiosks, counters, tables and chairs will be sanitized at regular intervals. The crew members will also make sure that all the kitchen utensils are sanitized every four hours, and food trays are to be sanitized after every use without fail.
Social distancing and contactless measures are mandatory for everyone to follow in the restaurants or while delivering and receiving food via McDelivery. Even the customers will have to remain in designated social distancing markings at the kiosks, counters, takeaway windows, McCafé counters, and even in the dining areas.
To ensure the highest standards of food preparation, McDonald's is making sure that the food is safe and hygienic right from the suppliers' end to the plate. Additionally, the food will not be touched by bare hands at all during preparation.
So the next time you visit your favorite McDonald's, be assured that you will have a safe and hygienic dining experience.