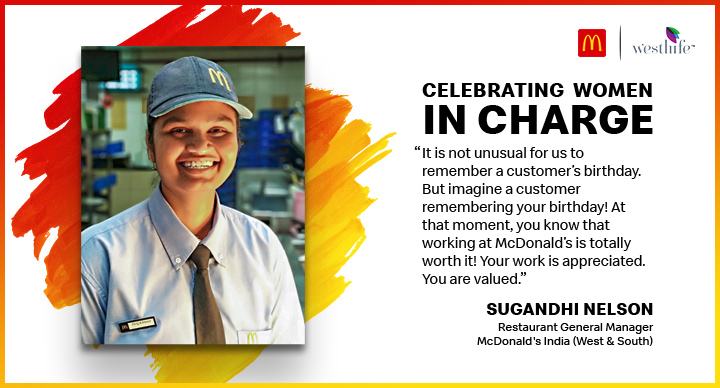 "It is not unusual for us to remember a customer's birthday. But imagine a customer remembering your birthday! At that moment, you know that working at McDonald's is totally worth it! Your work is appreciated. You are valued!" says Sugandhi, remembering her fondest moment at McDonald's.
Sugandhi, a shy yet confident girl joined McDonald's almost nine years ago in April 2012. As it was her first job, she initially felt a tad uncomfortable speaking to her fellow employees and customers. But she did it anyway. And through that habit of conquering her fear, she learned so many new things along the way.
"At McDonald's, the scope to learn is very vast. At times, you may think you have learned everything, but then there will be something new," says Sugandhi.
After losing her father at a very young age, the responsibility to support her mother fell on her. When her mother was ill, Sugandhi's managers made sure she got the required support, time-offs, and were even able to send her for promotion exams. With her drive to excel and ample support from seniors, she rose as a Restaurant Department Manager at McDonald's Kolhapur.
"I found McDonald's at a time when I was very confused about what to do in life. Now I can say that it's been an unforgettable journey as it has helped me make my mark as a hard-working professional," Sugandhi says.