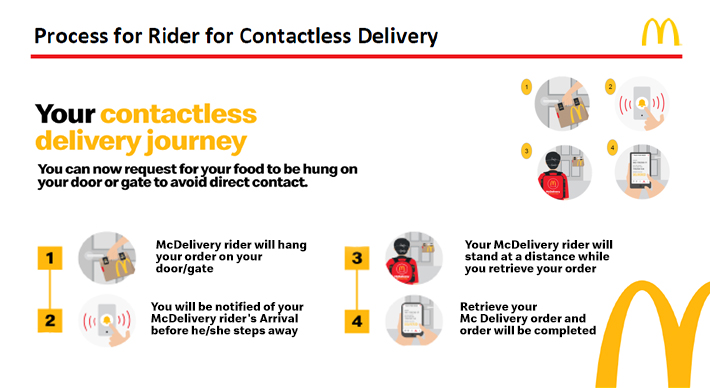 Our customers' safety has been and will continue to stay a top priority for us. We are upholding the highest standards of safety and hygiene at our restaurants. And now, we are pushing the envelope by having a super safe delivery system as well. We are proud to introduce 'Contactless Delivery' to deliver happiness at our customers' doorsteps with extra care.
What does Contactless Delivery mean?
It will be like your usual McDelivery service, with hot and fresh food delivered at your doorstep in no time, albeit with a tweak. In Contactless Delivery, your McDelivery rider will hang your order on your door or gate. You will then be notified on your mobile phone that your McDelivery rider has arrived. While you open your gate and retrieve your order, your McDelivery rider will stand at a safe distance.
And if you are wondering what happens to your food before the rider drops the order, we assure you it is untouched by bare hands till it reaches you. At the restaurants, everyone, from the crew member who assembles the food to the one who packs it, everyone wears gloves and hairnets. The packets are carefully sealed before the rider takes it to deliver at your doorstep.
At McDonald's, we have always adhered to the most stringent hygiene and cleanliness standards. Our values lead us to evolve our practices by setting higher benchmarks for not just taste but hygiene and safety as well. With Contactless Delivery, we are stepping up our processes to ensure nothing but the safest food delivery experience for our customers during this period of a health crisis.