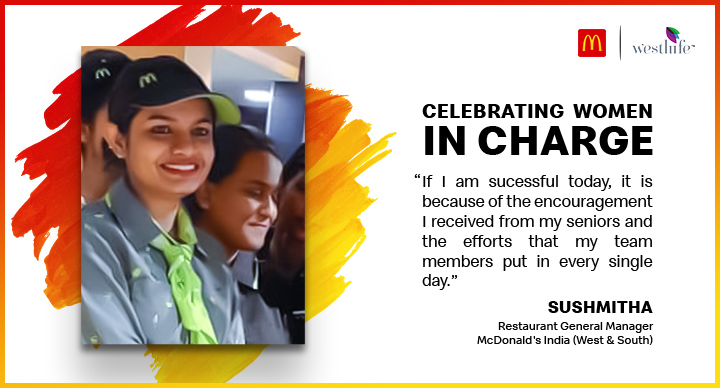 In 2018, we flipped our arches to honor the achievements of women everywhere, and especially in our restaurants. We value our women employees. For us, it is very important to create a workplace environment where women feel supported and motivated to realize their full potential. With the upcoming Women's Day this year, we bring to you stories of our powerhouse women employees who have worked hard and advanced their careers at McDonald's.
And we are starting the series with Sushmitha, our first woman Restaurant Manager to have won the prestigious Ray Kroc award!
Young, hardworking, enthusiastic, and sometimes child-like, Sushmitha has a personality that exudes confidence. Her ability to learn, understand the operational processes through and through, and take ownership has led her to become a Restaurant General Manager in a short span of three years!
This is no mean feat we must say. And this year, she became the first Indian Woman recipient of the prestigious Ray Kroc Award. The Ray Kroc Award is named after McDonald's Corporation founder, Ray Kroc. The award recognizes and celebrates the top one percent of McDonald's Restaurant Managers worldwide for their outstanding work and performance.
As a Restaurant General Manager, Sushmitha has played a very important role in delivering outstanding operational performance at Rammurthy Nagar and Esteem Mall stores. Joining McDonald's straight after finishing school, Sushmitha has had an inspiring career graph at the company.
Because of her petite frame, her being an RM was often received with disbelief and skepticism, she says. But letting that dictate her abilities and career progression was not Sushmitha's plan. And it was her hard work and drive that won her this prestigious award.
She attributes her achievements to her mother who always supported her from day one and also to her seniors and mentors who believed in her work and abilities. Sushmitha believes that one needs to build a strong foundation first in order to build up on it and achieve greater things in life. She's very grateful to her mentors for helping her build that foundation that she needed.