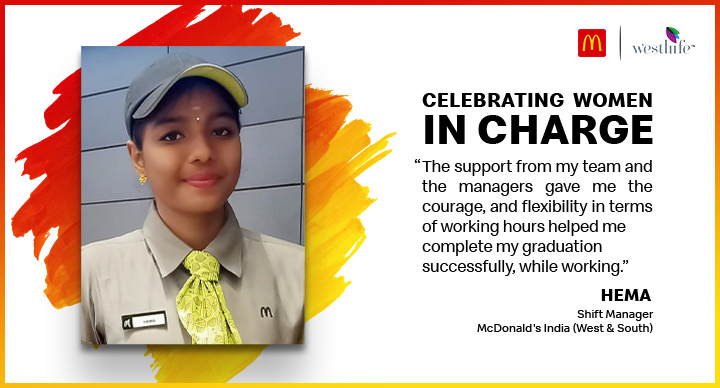 "Focus on your goals, no matter how difficult the path is," says Hema. As someone who has shuffled tirelessly between college and work, she knows what she's talking about.
It was 2016 when Hema joined McDonald's store as a trainee, and by the time she finished her studies, she was already promoted as a Training Squad. For reasons like a positive and friendly work environment, career growth opportunities, and supportive managers, she decided it was best for her to continue working at McDonald's.
The biggest challenge Hema faced was to balance her studies and working hours. "The support from my team and the managers gave me courage, and flexibility in terms of working hours helped me in successfully completing my graduation," she says.
Today, Hema is a Shift Manager at McDonald's Chennai ECR store and she couldn't be prouder. Besides professional growth, Hema has also noticed a colossal improvement in her communication skills. Interacting with customers and her team members every day has given her the confidence boost that she needed. In fact, Hema is a proud recipient of a number of appreciation mails from customers.
Another reason she loves working at McDonald's is the CSR activities she gets to participate in. "I am proud that McDonald's as an organization focuses on giving back to society," she says.