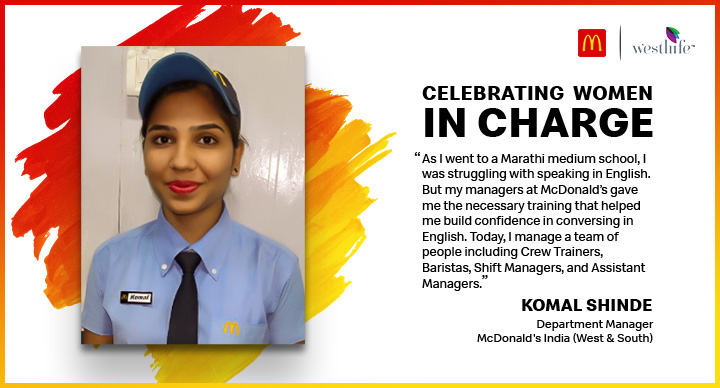 From a part-time to a full-time crew member in just 15 days, crew trainer within a year, and later on to a Shift Manager and finally a Restaurant Asst. Manager, Komal Shinde is a woman whose career growth knows no bounds. With each goal that she ticks off, she is already reaching out for something bigger and this has been the case since she joined McDonald's in 2011.
But there are more feathers in Komal's cap than these promotions. Thanks to McDonald's flexible working hours, Komal was even able to finish her designing course. And then there was the financial freedom that came with the job. One of her proudest moments was when she bought her father a car through her McDonald's earnings. "It is something I wouldn't have been able to do, hadn't I joined McDonald's," she says.
As Komal went to a Marathi medium higher secondary school, she was struggling with speaking in English, she admits. But her managers at McDonald's gave her the necessary training, and that, coupled with her hard work and diligence, helped her build confidence in speaking English. It was this confidence that aided her in clearing her RAM exams. Today, Komal confidently manages a team of people including Crew Trainers, Baristas, Shift Managers, and Assistant Managers. 
For Komal, every day at McDonald's is a happy day. Every day she works amidst team members and seniors that are supportive and encouraging. And together they find ways to deal with challenges and achieve business goals.