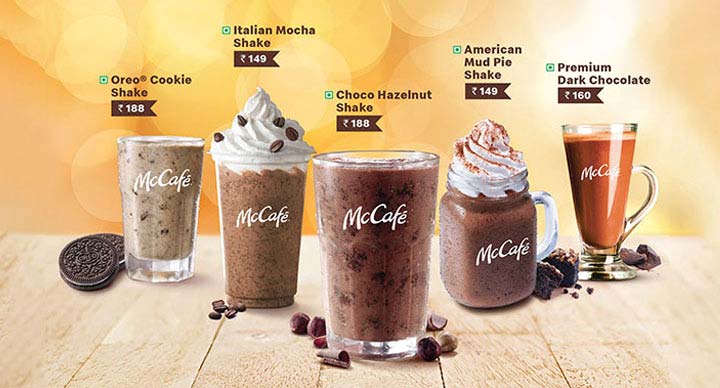 It's a new year and a new decade. And even though we are right into the third week of January, there is no reason why we should stop celebrating. A little treat or happy indulgence wouldn't hurt anyone, would it? Which is why this season, we at McCafé are offering you five delicious, premium beverages to try. They are rich, exquisite, and have a festive vibe that you will surely love.
American Mud Pie
Who loves chocolate brownies and cream? That was a rhetorical question of course! The rich American Mud Pie Shake at McCafé is for days when you feel like indulging a little or having something that helps you slow down a bit and just enjoy the moment.
Italian Mocha
If you can't decide between having something on the lines of iced coffee or something that is rich and chocolatey, why don't you go for both? Put your internal debate to rest with an Italian Mocha Shake and feel the kick of espresso, the richness of chocolate and the decadence of cream with every sip.
Chocolate Hazelnut
If you haven't explored the hazelnut flavor with your McCafé drink yet, now is the time. With its smooth, nutty taste, the hazelnut gives chocolate an altogether new dimension. No wonder it is growing popular around the world. Get the Hazelnut Shake at McCafé today and see how you like it.
Oreo Cookie
One of the simplest, most fuss-free shakes ever, Oreo Cookie is all about the love of chocolate and vanilla. If you are an Oreo fan, we strongly recommend you to get this beverage at a McCafé today. No one can go wrong with the rich shake that gives you the subtle flavor of cream with a crunch of Oreo in every sip.
Premium Dark Chocolate
This one is for the purists, for those who love dark chocolate to its bits. Whether you want to deal with Monday Blues or Friday Fever, dark chocolate is undoubtedly your best friend. Try McCafé's Premium Dark Chocolate Shake today. It's so good, we vouch for it.