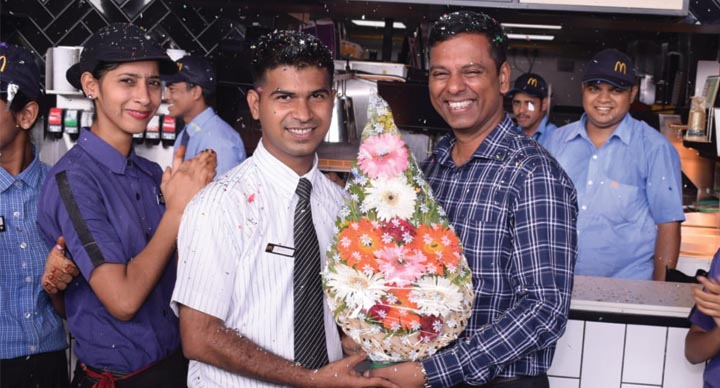 Every once in a while, we come across leaders who change everything for the better with their management skills, innovative ideas, and perseverance. At McDonald's Mumbai Truck Terminus, Kunal Dhembre has been that leader. Winner of the Ray Kroc Award as one of the best McDonald's Restaurant Managers globally, here is how Kunal Dhembre did it.
Kunal Dhembre joined McDonald's in September 2013 as a crew member and was immediately recognized for his talent and dedication. Owing to his immense commitment and a knack to streamline operations, he was chosen to manage the Mumbai Truck Terminus store in March 2018. The biggest challenge for the store was to find the right people to run it as there were no urban pockets close by.
Kunal Dhembre took the extra mile by recruiting from nearby villages and colleges and managed to train them effectively, something he's super proud of to this day. As a result, the store rose in popularity and today, customers love coming to their store because of the way the team runs it. Now that's what we call leadership!
Kunal's commitment to building and growing McDonald's business and taking care of customers' needs each and every day has been extraordinary. His energy and positive attitude make him an invaluable asset for the McDonald's India (West & South) team. We wish Kunal and his team a hearty congratulation for their achievement at the Global Ray Kroc Awards.
The Ray Kroc Award is named after McDonald's Corporation founder, Ray Kroc. The award recognizes and celebrates the top one percent of McDonald's Restaurant Managers worldwide for their outstanding work and performance. Kunal Dhembre along with Sushmitha, and Dharmendra Sahoo, from McDonald's India (West & South) have made us proud for being among the top leading McDonald's Restaurant Managers to win this award.