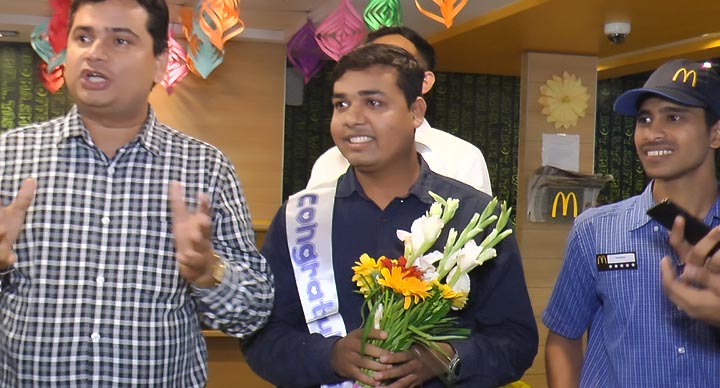 Dharmendra's success story is one that reminds you that hard work and perseverance always pays off. His journey at McDonald's began in 2013 when he joined the company as a Trainee Manager. Within 7 years of his joining at McDonald's, Dharmendra and his team achieved so much under his leadership. This year, he is one of the recipients of the prestigious Ray Kroc Award and is recognized as one of the best McDonald's Restaurant Managers around the globe.
The Ray Kroc Award is named after McDonald's Corporation founder, Ray Kroc. The award recognizes and celebrates the top one percent of McDonald's Restaurant Managers worldwide for their outstanding work and performance. Dharmendra Sahoo, along with Sushmitha, and Kunal Dhembre from McDonald's India (West & South) have made us proud for being among the top leading McDonald's Restaurant Managers to win this award.
Here's how he did it
The bright-eyed and diligent Dharmendra has been running a high-performing, profitable restaurant that meets McDonald's uncompromising standards of quality, service, and cleanliness. Over the years, he supervised the operations parameter, made sure that the right people were hired and trained, and was able to make his store one of the highest volume stores in the Gujarat region.
He is also proactively doing a lot of work to give back to the community- by organizing several blood donation camps, Ronald show for orphan kids and plantation drives with his team near his trade area.
Other than his achievement at the Ray Kroc Awards, his store has also won the Best Store of Year Award in the region for three consecutive years. Not only that, it also won the runner up award for the highest cash flow and best people development at the internal annual awards GEMS Fest 2019.
We wish him all the best for his remaining years with us and that he only keeps growing. Three cheers for Dharmendra and his team!