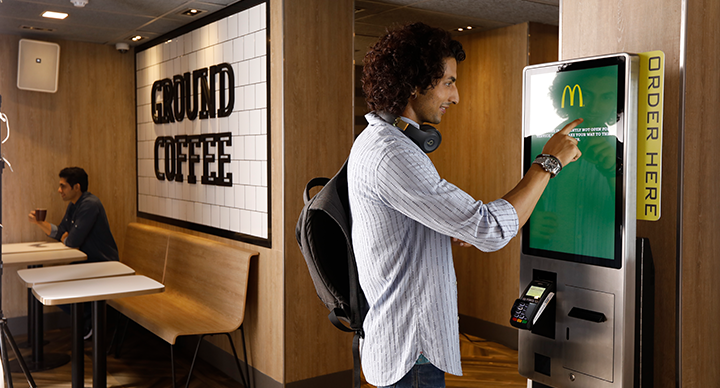 In the last few years, we have changed a few things at McDonald's. Of course, there have been new menu items (Food without Borders) and offers like McSavers. But we are sure you have noticed a lot of change in terms of customer experience as well. Because at McDonald's, it's all about giving you the best experience as a customer, both online and at the outlets.
A big part of McDonald's great customer experience can be attributed to the inclusion of innovative digital features in stores as well as apps such as the new McDonald's app. "We are betting big on digital and weaving technology across our operations, be it in our stores or the McDonald's app," says Arvind RP, Director – Marketing & Communications, Hardcastle Restaurants (McDonald's – West & South India).
All about the Experience of the Future…
Are you familiar with the EOTF features at McDonald's yet? Imagine being able to customize your burger at a kiosk that's right in front of the store and ditching that long queue entirely. Sounds so perfect, right? At McDonald's EOTF restaurants, you can do just that. Not only that, we'll have your food delivered to your table as well without a hassle.
One app for all!
The McDonald's app has been a sensation ever since it was launched, serving as the one-stop-shop for all McDonald's lovers. Be it McDonald's news and stories, customized offers, finding McDonald's restaurants, or finding answers to your McDonald's food queries, it's all there in the palm of your hand. It even has access to the McDelivery app and every other McDonald's platform on social media. In a nutshell, McDonald's app is basically everything you love about McDonald's rolled into one. With this level of convenience, why won't people love it, right?
"We at McDonald's are increasing our focus on enhancing digital and app experiences that we have and are investing towards further building on the omnichannel experience for our consumers," Arvind adds.
With McDonald's app being downloaded over 10 million times already and EOTF restaurants on the rise in South and West India, it looks like McDonald's is not slowing down on giving you the best user-experience there ever is.