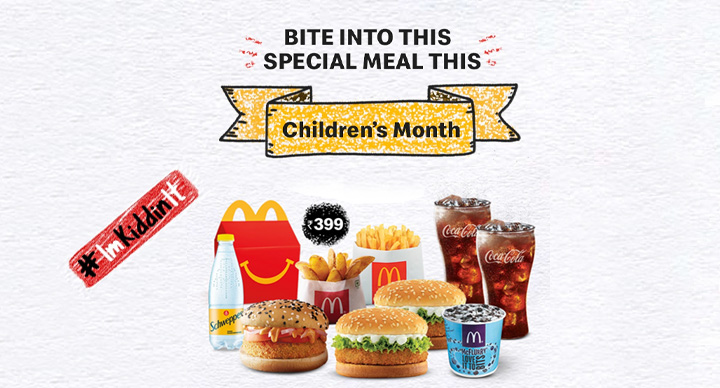 You don't really need a reason to spend some quality time with your kids. What you may need however, are interesting ideas to spend time with them. And that's what we are here to talk about. Children's Day is special, and to make it even more special, McDonald's India (West & South) has a full-fledged plan for you. Read on to know more.
A Tray Full of McDonald's Food at just Rs 399!
We kid you not. We are offering a Family Veg Meal with two McVeggies, two Regular Cokes, one Regular Fries, 1 Regular Wedges, one McAloo Tikki Happy Meal with Coke & 2 toys and 1 McFlurry at just Rs 399. A Non-Veg Family Meal with two McChickens, two Regular Cokes, one Regular Fries, one Regular Wedges, one 4Pc McNuggets Happy Meal with Coke and two toys, and 1 McFlurry is on offer at Rs 449.
Bring Your Creative Side out with McDonald's tray mats
This Children's month, we are feeling very creative. And we want you to feel creative too, which is why we are serving food on these tray mats on which you can doodle using McDonald's menu items. Don't forget to upload the final work of art on your social media platforms. Do tag @McDonalds_India and use #ChildsPlay. We will feature the coolest ones on our social media channels!
There will be kiddie menu boards as well
Dedicating our menu items to our young customers, we are presenting our menu boards in a doodled version. Everything will look like a child's drawing, and we have a feeling you will be lovin' it. Step in to your nearest McDonald's outlet to experience Children's Day in a unique way as we said.
The offer is valid between 12th November and 24th November.