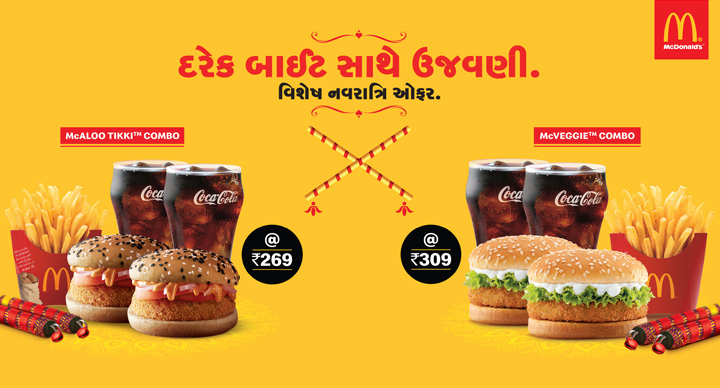 If there is one word that unites all our Gujarati friends during Navratri, it would be Dandiya, something that almost kickstarts the festive season in India in the most musical, fun-filled, and colourful way. For Dandiya, people get excited days in advance; read shopping, booking Dandiya Night tickets, choosing a Dandiya partner and what not. And now, McDonald's India (West & South) has come up with an offer to add to this excitement.
If you're in Gujarat, Chhattisgarh, and Indore, and are looking forward to shake a leg or two during Navratri, McDonald's has a little something for you. We are talking about our very own Dandiya combo.
The magic number is 2..
Walk right into your nearest McDonald's store with your loved one to avail the Dandiya offer, because trust us, it takes two to finish a meal this big. Are you more of a McAloo Tikki burger fan or is McVeggie your go-to burger at McDonald's? Either way, you cannot go wrong with any one this month.
Get yourself the McAloo Tikki Dandiya Combo with not one, but 2 McAloo Tikki burgers, 2 Regular coke, 1 medium fries, and a pair of dandiya sticks for Rs. 269. For a more veg-filled option, you can go for the McVeggie Dandiya Combo which has 2 McVeggie Burgers, 2 Regular Coke, 1 medium fries, and 2 dandiya sticks for just Rs. 309!
Nothing like yearly festivities to make you jump out of the bed and get you all excited to live. It is time for you to closet your drowsiness and put on your bright, gleaming faces because the onslaught of back-to-back festivals and celebrations is here, and we at McDonald's are just as excited and jumpy as you are. Let's get our Dandiya sticks ready!
Please note that the Dandiya offer is available only in Gujarat, Chhattisgarh, and Indore.