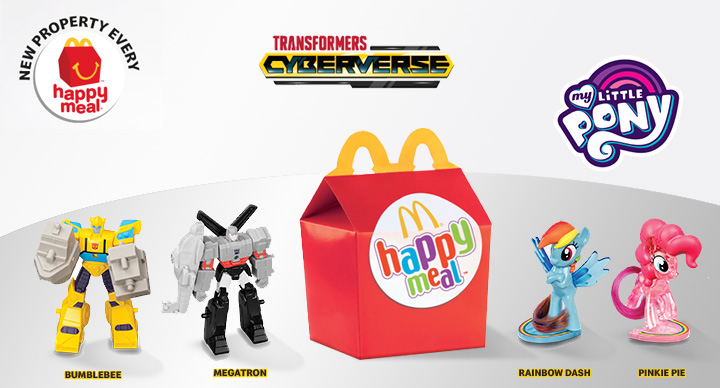 It's time for yet another Happy Meal surprise, and this time, we have not one but two whole new themes for our happy collectors and kids. Meet the adorable playmates from My Little Pony and the robots that are known for their disguising abilities, the Transformers!
Rainbows, magical powers, and a lot of fun…
Try not to go "aaww" when you see these bright-eyed ponies who look like they have been dunked in a rainbow of colors. For those who have seen these characters come to life on TV screen, you know what we're talking about. Aren't they the most adorable, fluffiest thing you've ever seen? Catch them My Little Pony characters only at McDonald's this month. Let Fluttershy, Rarity, Pinkie Pie, and Rainbow Dash take you to their magical world with their glitters and fluorescent colors, and general cutesy.
The only transformation you need this month…
Moving on to a more action-packed side of the fantasy world, McDonald's has also added the robots from Transformers to this month's Happy Meal package. "Can the robots transform?" is probably your only question, and yes they do transform like they're supposed to. We'll leave the "to what?" part for you to find out. But be ensured that Bumblebee, Optimus Prime, Megatron, and Starscream are going to be great additions to your collectibles.
Join us this month at McDonald's and get the best of the two different worlds!