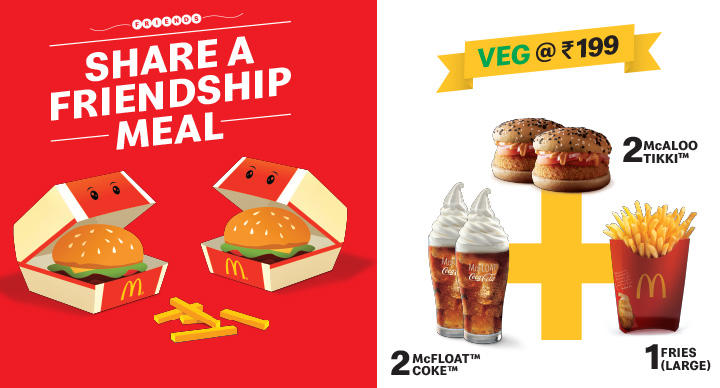 Sharing laughter and sorrows, inappropriate jokes and secrets, and best yet, sharing meals together, that's the stuff any great friendship is made of. With Friendship Day around the corner, everyone is making plans to have a great time with their friends.
Whatever plans you have with your best friend, you better make sure you can squeeze in a quick stopover at McDonald's, because we have a great offer for you there.
A value meal to value your friendship
Burger without fries or coke is like life without a friend, incomplete. With McDonald's Friendship Meal offer, you not only have a complete meal but double of each goody for the legendary duo that you and your bestie make.
That's right! The McDonald's Friendship Meal is set to stuff you up with 2 McAloo Tikki Burgers for veg and 2 Chicken Kebab Burgers for non-veg. Add 2 medium coke/coke floats and 1 large fries to each and you get two whole meals at just Rs199 and 249 respectively. Now here's a meal to match the greatness of your friendship.
Tag your bestie along for the Friendship Day feast at your nearest McDonald's from August 1-7. Here's to two happy and stuffed friends. Happy Friendship Day to all!