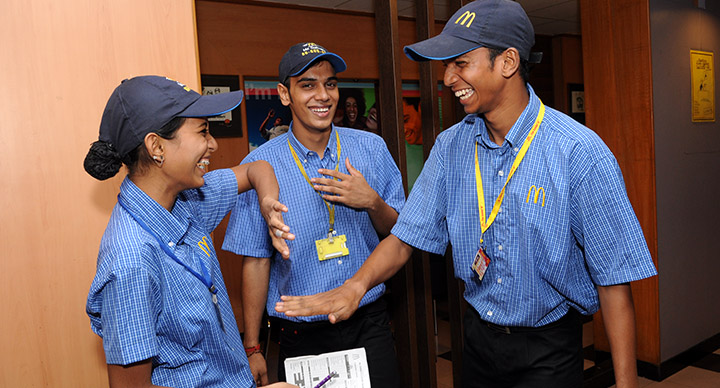 Being right at par with the quality of food that is served, McDonald's has also never fallen short of expectations when it comes to quality-service. But behind McDonald's great service and friendly ambiance, are a bunch of very happy and friendly employees who love to work at our restaurants.
So what makes McDonald's such a great place to work at? The answer lies in our simple yet powerful Employee Value Proposition of Fun, Flexibility, and Future, which we have stayed true to since day one.
All about fun
In a workforce that is filled with young and energetic people, it is important that their work environment is as fun and youthful as them. McDonald's recognizes this need and makes sure that they provide their employees a platform where they can learn, grow, be responsible, all the while having a good time. We also have an enthusiasm calendar every year where our employees can celebrate festivals and global events in a lot of fun-filled ways.
Flexibility
A secret to McDonald's great employee retention is the flexible work timings provided to them. Our employees can easily shuffle their shifts around which gives them the flexibility to balance with their other commitments like education and household responsibilities in their day to day lives.
Bright future ahead
Over the years, hundreds of young and enthusiastic people have joined the McDonald's workforce in pursuit of a great career start-up, and the brand is happy to offer a platform where not only do these young minds get the start-up that they need but also hone their skills to grow.
We have had a number of testimonies of young men and women at McDonald's who have worked their way up to become restaurant managers and mentors. This has been made possible by the various training sessions, workshops, learning programs, and other such growth opportunities that we offer to our employees. We even have an online learning portal which can be accessed by employees at all times.
McDonald's also adapts and encourages progressive practices such as performance appreciation and equal opportunity and safety for women employees.
Happy employees= Happy customers
It is this simple equation that we at McDonald's strive for. Turns out that what makes McDonald's a happy place to work at, also makes it a great hang-out place for our customers to eat at. And we intend to keep it that way.