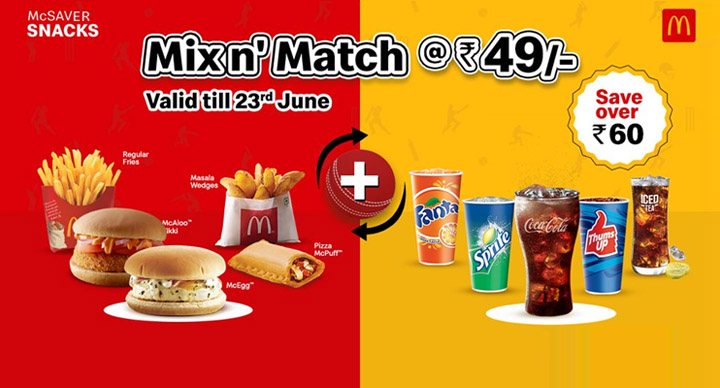 I don't like snacking, said no one ever. What is life without some crunchy, savoury munchies, coupled with a glass of your favorite chilled beverage?

And to make snacking even more fun, McDonald's presents to you the ultimate snack combos, exclusively on the all new McDonald's app. With the Mixn'Match McSaver Snacks, you can make the combo of your choice at just Rs. 49!!! Isn't that exciting?

Mixn' Match-Made in heaven

If you were to list your favorite McDonald's items, we're pretty sure all the Mixn'Match items that are available, check with your list of favorites. Now imagine if you could make your very own McSaver Snacks combo out of those!

On one hand, you have your favorite items like the McAloo Tikki Burger, McEgg Burger, Pizza McPuff, Masala Wedges, and fries. On the other hand, you have your favorite cold beverages like Coke, Fanta, Sprite, Thumbs Up, and Georgia Iced Tea to make for your perfect snacking scene.

How to avail this exciting offer? That's simple. Just download the McDonald's app and head over to the offer section and pick any of the Mixn'Match combos available. The McDonald's Mixn' Match offer at Rs. 49 is available only till 23rd June. Hurry!

Do remember that the Mixn'Match offer is available only on the McDonald's app. So get the app on your phone now and make the most of this cricket season with your favorite snacks at a dream-like price.