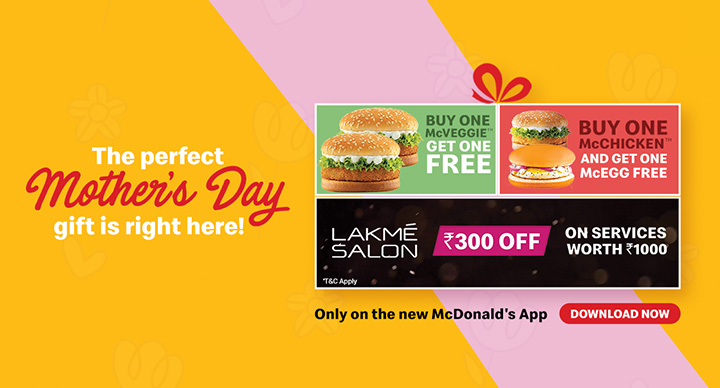 Mother. Confidante. Best Friend. What would you do without her? Where would you be if it weren't for her love and support? Juggling between the roles of being a mother and a wife, a home-maker and a working woman, she makes multi-tasking look so effortless that it makes you wonder whether she's a superhuman. The answer is, yes, she is! And if anyone, it is her who deserves this entire Sunday to herself.
Don't take her for granted, take her for a fun day out!
This Mother's Day, we propose a great way to say "Thank You!" to the superwoman in your life. McDonald's India (West & South), in partnership with Lakme, is making you an exciting offer for the ultimate pampering session for your beautiful mom. Have her enjoy a fun day out with the best salon treatment complete with a hearty dinner at McDonald's.
Here's what you need to do
Open the McDonald's app on your phone, head straight to the offer section to find the deal that says "Double Treat this Mother's day," and simply unlock the offer to win an amazing discount of Rs300 off for a special beauty treatment at your nearest Lakme salon. Making it all the more special, McDonald's is also offering a free burger with a McChicken or a McVeggie. We know a combo of a pampering session at a Lakme salon followed by a treat at McDonald's is sure to bring a smile to your mom's face.
Happy Mother's Day to all the supermoms out there!