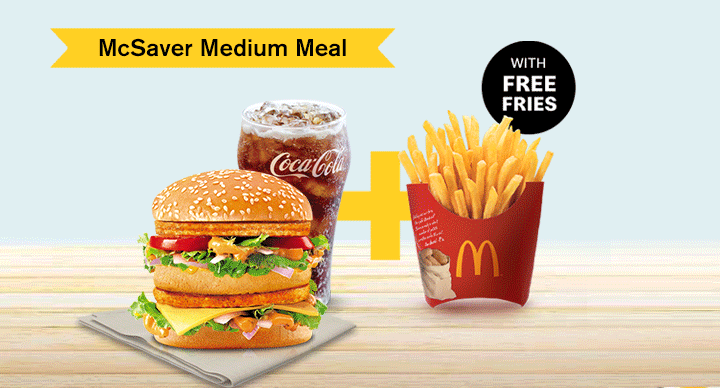 You have been lovin them McSavers for a while now. With the combination of your favourite burger/Naan/Wrap and Coke at an unbeatable price, what is there not to love? The McSavers have established the fact that McDonald's has always believed in everyday value along with great tasting good food that is loved by everyone.
But did you know that the McSavers now come with free fries? Sounds perfect, right? So rush to your nearest McDonald's outlet today. Do remember that you will get free fries only with a Medium McSaver meal. You can choose amongst a range of McSaver meals with free fries, like the McSaver McAloo Tikki meal, McSaver Mexican McAloo Tikki meal, McSaver Chatpata Naan meal, McSaver Filet-o-Fish meal, and McSaver McSpicy meal.
Free fries doesn't happen every day. So get going guys. No coupon codes needed. No contests to participate in. Just show up at your nearest McDonald's outlet and ask for a Medium McSaver Meal. Fries will be complimentary.