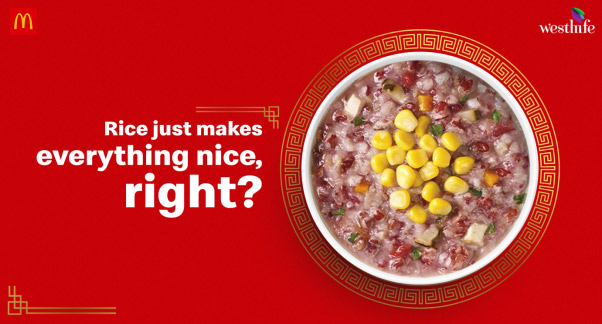 For those who have eaten rice since childhood, no other food defines a meal better. Starting from simple steamed rice to crispy rice buns, and soggy rice morsels with shredded chicken, the unique, bizarre and delicious ways in which people around the world eat rice has no end. There are many countries where no meal is complete without rice. Whatever may be on the menu, they all revolve around rice and not the other way round.
McDonald's and rice?
Now how often does that happen? And who said burgers and rice in the same breath? No one, right? But you see McDonald's is known for localizing its menu across the globe in the most fascinating and delicious ways. So it should come as no shock (surprise, yes, shock no) that in many countries, McDonald's outlets serve rice-based dishes and a McDonald's rice meal won't let you down. McDonald's rice bowl is a cult favorite among our following. Let's look at these five McDonald's menu items to start with.
Chicken Patty Rice, China
Crispy chicken patties drenched in sweet soy-based sauce, served with fresh lettuce leaves for some crunch, on a bed of rice. Chicken Patty Rice in McDonald's China is a simple yet flavorful dish that you cannot miss on your trip to China.
Red Rice Porridge, Singapore
It was Singaporean chef Anna Lim's visit to Bhutan that led to the creation of this dish, which is now a permanent breakfast menu item at McDonald's Singapore. The nutty taste of red rice is beautifully enhanced with the addition of shiitake mushrooms, beancurd, sweet potato, corn and goji berries. This Singaporean McDonald's rice meal is enough to comfort the foodie inside you.
Kaprao Fish Rice in Thailand
This one is all about tender fish in sweet and spicy sauce, served with rice. And if you are really hungry, you can go for a complete McDonald's rice meal (called set at McDonald's Thailand) by getting add-ons like fried egg and Macaroni soup.
Black Sticky Rice With Young Coconut Pie, Thailand
It may not look like your usual dessert, but Black Sticky Rice with Young Coconut Pie, at McDonald's Thailand has SOME fan following. So if you are a pie kind of a person, or have a sweet tooth, or both, then this variation of McDonald's rice bowl is a must try for you.
You can try these unique and distinct meals in the McDonald's outlets in their respective countries. To get your rice-based protein of the day, order from our McDelivery® app or McDelivery® website. The  McDonald's app has a number of eye-catching deals and offers so that you can enjoy a great value for your meal.