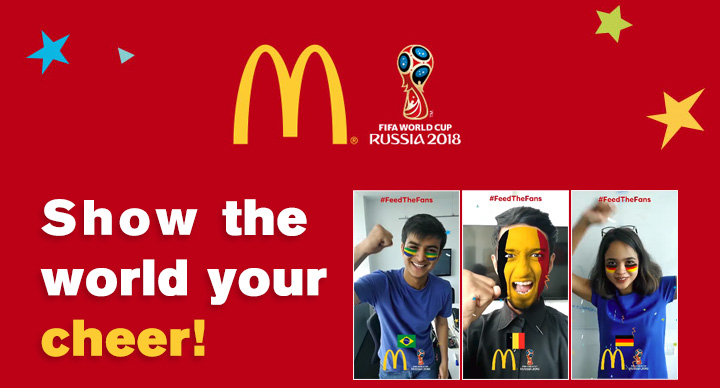 The FIFA World Cup 2018 is off to a flyer. With the conclusion of the round of 16, we are all set for the last-eight battles!
With the world's largest fan following, the FIFA World Cup captures the imagination of people across the globe, irrespective of age, race, gender, ethnicity or nationality.
As an official sponsor of the FIFA World Cup 2018, we have a spread of exciting action coming your way.
Here is what to expect:
Live screening at select outlets
In select McDonald's outlets (Vasai, Colaba, Borivali, Sai Elegance, DLR, Fun Republic, Anupam, Star Mall, AtoZ (Vasai), Shalimar, Mulund, and Koparkhaiane), there will be live game screenings to go with your favourite meal. So, no question of missing a match while out for a bite.
The Contest
If you buy a McSaver Combo during the screening, you could be a part of a contest. Pick up a form from the crew and fill your contact information, your forecast for the match underway, and details of your order. Once you have filled up the form, you need to hand it over to the staff along with your receipt. You need to then locate the bright red Contest Box, and drop in your entry.
The Prizes
Let's get to the best part of it all. You get a chance to win the World Cup merchandise from Adidas, the official sponsor of the FIFA World Cup 2018. Among the coolest prizes are national football team themed jerseys of Brazil, Portugal and Argentina and sippers branded with the national teams' crests of Spain and Germany.
One for the social media
If you are following us on social media, you can win more prizes. Once you visit the store, log in to your Facebook app, swipe left to access the camera, and choose the country face filters by McDonald's, and click a selfie. Post the selfie with your prediction, tag McDonald's India (West & South), and you're all set to compete!
And while you're at it, don't forget to take a selfie or two at our WC themed photo-op units and watch the likes pouring in.