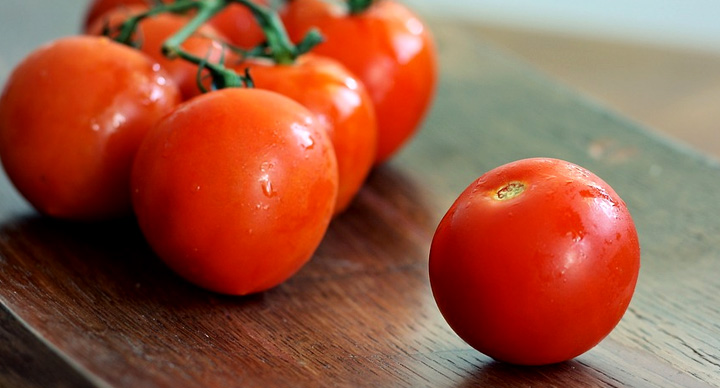 McDonald's puts a lot of thought into its food. And care. Every product reaches the table after a journey that goes back to the time when a field, a farmer or a facility was marked out as a potential source for a product that would make it to the unique world of a McDonald's.
Take tomatoes, for instance. The tomatoes used in McDonald's burgers are fresh, bright coloured and of similar sizes. Sourced from various states of India including Karnataka, Punjab and Maharashtra, tomatoes are harvested when they mature and sent to McDonald's restaurants within 1-2 days of harvest. Approximately 3,500 – 4,000 kilograms of tomatoes are sourced daily by McDonald's India.
McDonald's sources all its produce from approved suppliers across India which follow stringent quality norms set by McDonald's.
How does McDonald's ensure that it gets only good quality tomatoes?
It all starts with the selection of right seeds. In coordination with specific seed companies, seeds that serve the taste and experience of a McDonald's burger and are sustainable and resistant to pests and diseases are selected. Experts from pesticide companies work hand in hand with suppliers and farmers to guide on cultivation practices and usage of pesticides.
And which tomatoes do not make it to McDonald's burgers?
Off grade, spotted, and unripe or over ripe tomatoes are a complete no-no. Also, tomatoes tend to be infected with fruit borer and fruit fly. While fruit borers can be identified easily and hence controlled, a Fruit Fly is tricky as the eggs get laid inside the fruit and external marks disappear over a period of time due to tissues' heeling property. Hence, spotting from outside is not possible. Fruit Fly is a recent phenomenon – incidences have been noticed only post monsoon.
How does McDonald's control fruit fly?
At farm level, affected fruits are disposed off scientifically to avoid extension in the next cycle. At plant level, certain random batch samples are sliced and inspected for fruit fly larvae. If identified, the batch is isolated and discarded.
McDonald's staff are trained adequately to identify fruit fly incidences through rigorous quality checks of tomatoes and an entire batch is discarded if even a single tomato fails the test.
At the outlets, daily inspections are done to ensure that over ripe and rotten pieces are discarded. Tomatoes are also checked post slicing. Managers and crew members are trained to understand all critical food safety measures and periodic audits are also conducted.
At McDonald's India, sourcing the right, certified ingredients is very important. McDonald's is committed to food safety and quality assurance across its supply chain. The brand would rather discontinue using a particular ingredient than add something that does not meet its safety standards. To ensure consistent customer experience across the world, McDonald's tirelessly works on maintaining food safety and quality standards that customers want.
And that is just a little bit about all the thought we put in our tomatoes.