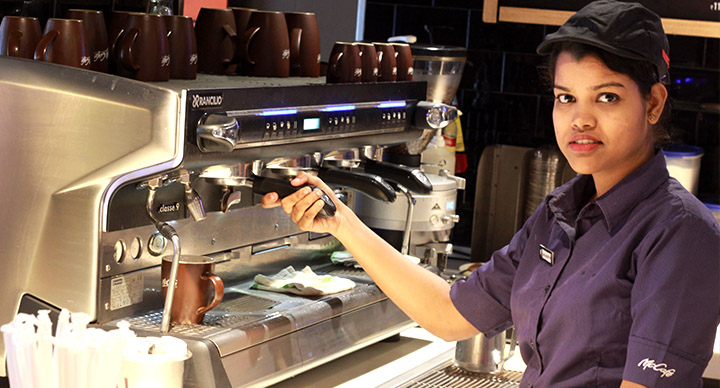 The number hundred is a huge milestone as well as a special number for rating things. When a song figures high on Billboard Hot Top 100, or a player scores a ton in a cricket match, these are regarded as sureshot signs of success. McDonald's India (West & South) too touched a special 100th milestone recently.
When the 100th McCafé – McDonalds' specialty coffee and shakes store – was opened recently by Westlife Development, through its subsidiary Hardcastle Restaurants, the master franchisee of Westlife McDonald's (West & South India), it was time to uncork the bubbly.
The achievement keeps the company on track to double its McCafé outlets by 2017-end. As Amit Jatia, Vice-Chairman, Westlife Development, says in the Financial and Operating Results Report for the quarter ended December 31, 2016, "While facing the challenges of a volatile macro environment, we continued to make thoughtful investments in our 20-year brand journey, including McCafé, by introducing premium Share Shakes, a Limited Time Offer."
The expansion of the McCafé brand and its product offerings over time, have been part of the company's goal to elevate its coffee portfolio. What makes coffee at McCafé special are the unique flavours of Arabica coffee beans sourced from Chikmagalur, Karnataka.
The launch of the McCafé brand in India with the opening of the first café in Sobo Central Mall, Mumbai, in 2013 was a major step in McDonald's beverage growth strategy. Just 18 months later, 41 McCafés had been opened across six cities in West and South India. The quick rollout was made possible with the unique in-store format, according to Smita Jatia, Managing Director, Hardcastle Restaurants Pvt Ltd.
Hot And Cold Desserts
It's not just about freshly brewed coffees at a McCafé. Coffee lovers have a whole lot else to choose from the extensive menu – be it frappés, smoothies, or the delectable desserts.
Among the specialty coffee offered at McCafé are cappuccinos, mochas, hot chocolate, Chai Latte, Espresso Macchiato, Espresso, Flat White Coffee, classic and iced coffees, Premium Double Dark Hot Chocolate, Strawberry Green Tea, Black Tea, Black Coffee, Strawberry Iced Tea, Green Apple Tea, Lemon Iced Tea and Iced Splash.
Besides drinks, there's a whole dessert range to be savoured and enjoyed: pastries, choco-chip muffins, cookies and slice cake.
McCafé has always tried to be innovative in its menu launches. Share Shakes, launched in October 2016, are shakes that you can share with friends or family, being available in larger quantity and served in tall glasses. They come in three tastes: Oats N Raisins Cookie Crunch, Strawberry Oreo Whirl, and Espresso 'N' Brownie Overload.