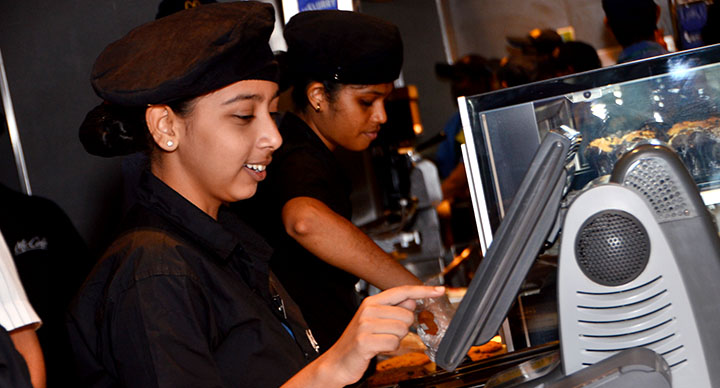 The best thing about today's work environment is that women can really have it all! They are playing key roles across the workforce.
McDonald's is a perfect example of an international company, where women can be spotted everywhere, from the boardroom to the crew room, from the restaurant to the kitchen. McDonald' India (West & South) comes to work every day, making diversity and inclusion an intrinsic part of its culture.
The thought behind hiring more and more women has as much to do with McDonalds' Diversity policy as it has to do with benefitting from the unique qualities that women bring to a workplace. McDonald's restaurants with a strong presence of women are scoring better, with the friendliness quotient in customer service being high and fewer disciplinary issues existing in the restaurants.
McDonald's, itself , has gone the extra mile to make not only its women employees feel comfortable while performing their tasks in the restaurant, but also taking into consideration the fact that most of the women come from conservative families who may be wary about the work atmosphere at an international restaurant chain.
In a first-of-its-kind initiative, McDonald's Goa, which opened its first outlet in the state recently, invited the parents of its new female staff for a visit to its stores. Around 50 parents arrived at the new outlet in Goa to get a first-hand experience of what their daughter's workplace was like. They returned, reassured about McDonald's being a safe and friendly workplace, and learning that the job ranged from flipping burgers to growing within the company.
In another move, McDonald's actually redesigned its uniforms at select outlets in India for women who were uncomfortable to wear trousers to work. Then, it also created a new job profile of a "Female Confidant" with whom the women employees could share issues, if any.
Other attractive perks introduced by McDonald's for their female employees are: giving flexi-time options to new mothers and helping female employees get transferred to a McDonald's branch nearer home.
Rachiel Menezes, Manager- Legal & CS, McDonald's, shares, "When my husband got transferred to Doha (Qatar), I thought I might have to quit my job with the Legal Team at McDonald's. But they surprised me with an offer I couldn't refuse – to work as a consultant, that too remotely! I still wondered how I would be able to work from Doha with the team in India. The team offered me a lot of encouragement and I am thankful for the opportunity. The flexibility and support McDonald's offered me in the last 7 years is something I will never forget."
Trupti Bansod, Deputy Manager, People Resources, shares a similar experience. "From IHM Goa, I had the opportunity to work either with the Taj group, Four Seasons, or McDonald's. The program at McDonald's appealed to me the most as it provided the most promising growth opportunity. Now when I look back, eight years later, I am happy I followed my heart. I have grown from a Trainee Manager to Deputy Manager-People Resources, handling People Resources for Mumbai. McDonald's is one of the few organizations where women have an equal opportunity to grow and unleash their potential, to be passionate, take things in a positive stride and focus on one's goal."
Women, thus empowered, prove to be an asset in any organization. McDonald's should know!