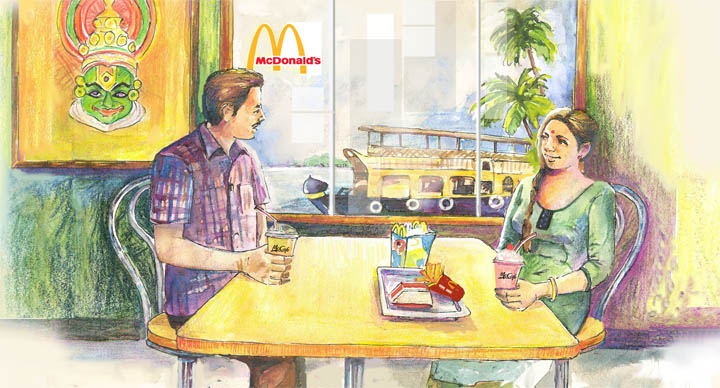 Kollam, located on the southern coast of Kerala, is one of the oldest and most important ports on the international spice trade route. Today, its beach is one of the most sought-after locations for weddings because of its pristine and clean ambience. This tropical beauty made Kollam a favourite place to set down roots for the Portuguese, Dutch and English travellers in more recent times, while Roman and Greek traders made their way here in older times.
These influences have bestowed on Kollam the openness to try new things. Well, the locals can look forward to trying something new and exciting with McDonald's opening its very first restaurant in this seaport city.
The restaurant was opened on Christmas Day at the well-known RP Mall. It's a stand-alone store in the Mall, located on two floors. There are 102 seats in the restaurant, inclusive of a birthday party area. Visitors have ample parking space in the Mall.
The complete menu, including breakfast and new wraps, of McDonald's (West & South), will be provided to customers in Kollam, with the outlet having around 30-35 employees.
Interestingly, being a port known for its spices and fish, both the piri piri spice as well as the fish in the famous fillet-o-fish dish of McDonald's, are being sourced locally in Kollam itself.
To celebrate the launch, the restaurant also has the promotional offer on getting the third meal free on ordering two McVeggie/McChicken meals.
To make children customers feel welcome in the family restaurant, two toys are being given free on the purchase of a large meal or purchase worth Rs 399.