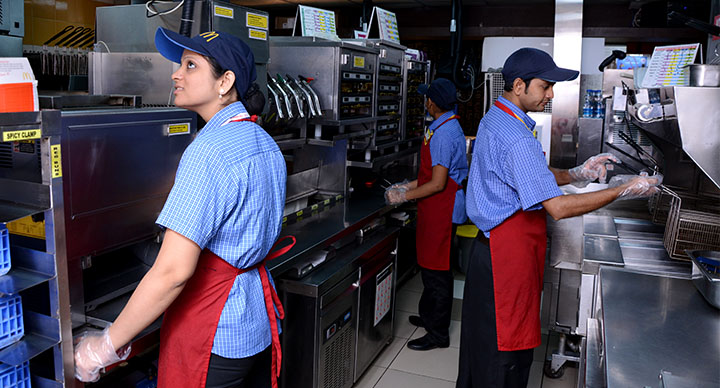 When you step into a McDonald's restaurant, the first thing that strikes you is the colourful décor, the eager customers, the staff attending quickly to customers, and the sheer energy of the place. This is how it looks anytime of the day you may choose to visit.
You start to wonder how it must be for the McDonald's employees who work at the restaurant: Do they arrive early, do they work in shifts, who works in the kitchen and who attends to customers? Well, a whole lot of thought has gone into creating not just the meals but in creating an exciting workplace for the staff. After all, only if the employees are happy to work, can the excitement rub off on the customers as well.
Realizing that a basic ingredient to include in the creation of an exciting workplace is diversity, McDonald's India (West & South) is making serious efforts to hire and train individuals from different backgrounds. Diversity – of sex, background and language – leads to a variety of thoughts, beliefs and attitudes, which automatically creates an invigorating atmosphere. This, in turn, increases productivity, which spells success for any business.
McDonald's is hiring more and more youth from semi-urban areas, besides tribal youth, in association with some NGOs. That is how diverse it gets.
The 3 Fs
Fun, Flexibility and Future are the buzzwords when it comes to working at McDonald's. While Fun defines the liveliness of a typical McDonald's restaurant, Flexibility is all about the freedom to choose your workshift, and Future relates to the many opportunities for growth within the restaurant as well as beyond it.
Customer satisfaction being the focus of the company, training in soft skills is mandatory for employees who deal with customers directly.
McDonald's uses ADEPT, or the Adaptive Employee Personality Test, one of the most advanced adaptive personality and potential assessment tests available. ADEPT helps the company's employees to evolve into the most sought-after talent in the Quick Service Restaurant field in the country. In other words, once someone has been a crew at McDonald's, one is qualified as the best talent to work in a similar field.