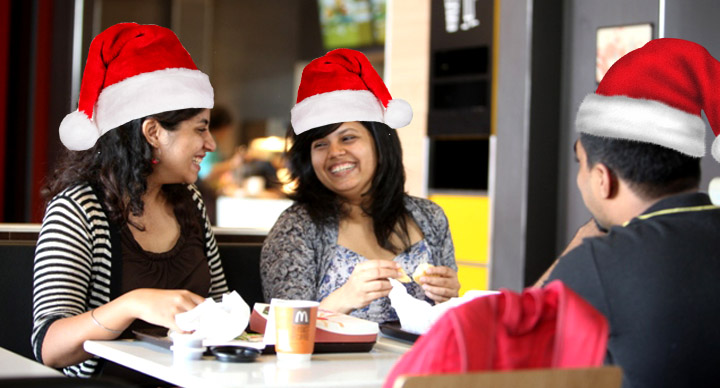 Christmas brings out the festive spirit in us in a whole new way. Maybe, it's the excitement of a new year that's just round the corner, or it is the wish to be surrounded by one's folks as another year draws to a close.
There's a desire for all things warm on the chilly evenings around Christmas, which is one reason why Christmas menus have always used words like "toasted", "grilled", "hot" and "crispy".
The wholesome and varied menu at McDonald's allows you to have a real Christmas party!
If you are out partying with friends, can anything be better than the multi-layered social burgers? The Chicken Maharaja Mac with Grilled Patty or the Veg Maharaja Mac with Corn 'n' Cheese is the right food to warm the cockles of your heart.
The steaming grilled wraps, with fillings as spicy as you would like, come in three hot flavours: Chicken Wrap, Egg Wrap and Aloo Wrap.
The Crispy McNuggets – in vegetarian and chicken flavours accompanied by tangy tomato dips, are just what one needs to beat the chills.
For those who like it hot and spicy, can enjoy the hot favourite McAloo Tikki burger in spicy Mexican and Lebanese flavours. They are sure to make you sweat! The Mexican McAloo Tikki burger has a filling of jalapenos and tomatoes, and are topped with Mexican marinara sauce. Bet it's hot enough for you!
The touch of Mexicana is not limited to the burgers. Even the French Fries get a dash of Mexican flavours with a topping of tangy Mexican salsa, coupled with cheese sauce. For those who prefer to have their eyes water, can sprinkle some piri piri spice on their French Fries. Yes, the French fries Piri Piri, which was launched as a temporary promotional offer, is here to stay.
If spicy is not the way you wish to mark your year-end festivities, preferring a sugar rush instead, McCafé has a whole lot of options: from the McSwirl Chocolate – which is vanilla ice-cream topped with hot chocolate sauce; to the McSwirl Butter Scotch – vanilla ice-cream topped with butterscotch ice-cream; Chocolate Brownie Soft Serve – soft serve ice-cream scooped in a glass and topped with chocolate sauce, with a slice of nutty brownie – it's as Christmassy as it can get!
Well, if you can't find pixie dust, try some sugar dust to create the same magic.