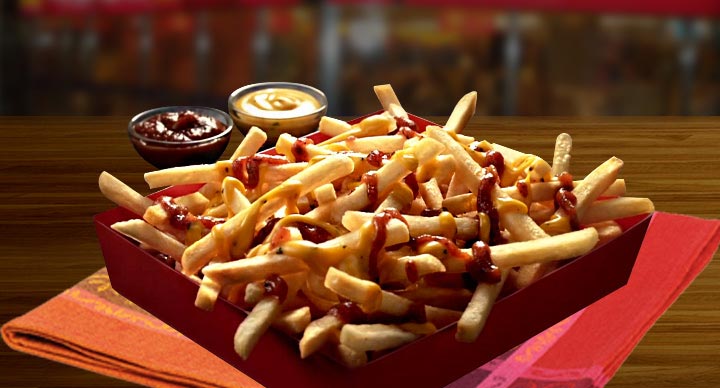 Mexican cuisine and flavours, being sought by food lovers around the world, are also proving to be a hit with foodies in India, especially as they are always ready to taste new and exotic flavours. Beyond Mexican, the Indian favourite is Indo-Mexican fusion cuisine like tacos and nachos with Indian ingredients.
Mexican cuisine itself is a blend of native Meso-American and Spanish (the latter from conquerors in the 16th century). Thus, native food like corn, beans, avocados, tomatoes, squashes and chili peppers, were mixed with rice from Spain.
Most people think Mexican food is hot and spicy. However, a more accurate description would be to say it uses strong seasoning, with many dishes even having subtle flavours.
Hola From Mexico!
McDonald's restaurants (in South and West India) are celebrating a Mexican fiesta by offering customers a taste of fusion food in the form of a Mexican McAloo Tikki Burger and Mexican Cheesy Fries!
With the idea of serving the Indian consumer who is seeking global flavours, McDonald's took its highly popular McAloo Tikki burger and gave it a dose of Mexicana – by adding jalapenos, tomatoes and Mexicana marinara sauce – with the aloo patty sandwiched between cornmeal-dusted buns.
Then, McDonald's took its best-selling French Fries and doused them with yummy cheese sauce and a dash of tangy Mexican salsa – a real mouth-watering treat!
Commenting on the new stars on the menu, Kedar Teny, Director, Marketing & Digital, McDonald's India (West & South), says "For the last two decades, McDonald's India has embarked on a journey by listening to customers and responding to their needs, innovating product offerings to appeal to the local appetite."
"The new McAloo Tikki Mexican. alongside the Mexican Cheesy Fries, offer an intercontinental experience to Indians who are seeking global flavours with an Indian twist. It is our constant endeavour to surprise our patrons and treat them with new dishes."