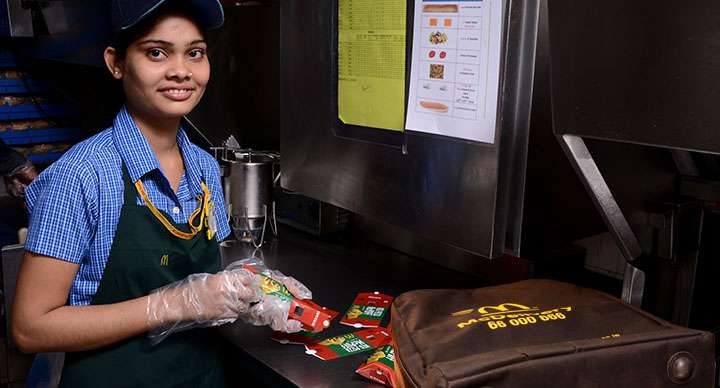 There's something romantic about road-trips, especially if one has grown up listening to stories about famous roads, like the iconic Route 66 in America. Now, thanks to numerous highways criss-crossing the expanse of India, and with a sturdy SUV at one's disposal, long weekends are meant for road-trips.
But even as most people get ready to "rough it", they still need both convenience and comfort each time they make a stopover for food or to freshen up. However, they don't have to look far, with the presence of McDonalds Drive Thrus on most highways in India.
McDonalds Drive Thrus come as a breath of fresh air when compared to the ubiquitous dhaba food, the staple of highways. McDonald's neat interiors, clean washrooms and great food provide just the kind of break one needs on a road trip.
McDonald's Drive Thrus are a great place not only to relish one's favourite McDonald's food while travelling, but also because they have ample car parking and dedicated play areas for the kids-in-tow.
Key Drivers
In fact, seeing the surge in road trips, McDonald's (West and South) is viewing its Drive Thru outlets as the key driver for its growth in the near future. As of June 30th, 2016, it has 240+ restaurants, a significant base of which are Drive Thrus. Most of these Drive Thrus are either free-standing restaurants in cities or Gold Standard Drive Thru restaurants on national highways, with a minimum of 20 car parks.
In western India, Kalamboli – on the Mumbai-Pune Expressway – was one of the first Drive-Thrus. Recent places to get Drive-Thrus were Rajkot, Bharuch, Hubli, Thrissur, Palakkad, Kochi, and Mumbai-Virar, to name a few.
McDonalds's (West & South) has a plan to operate 450-500 restaurants by 2022, focusing on various formats, including Drive-Thrus and highway restaurants. The 7th Pay Commission having just passed the Model & Shop Establishment Act, allowing brick-and-mortar shops to be open 24×7, will also allow
McDonald's stores on highways to remain open past 11 PM, thus catering to even more customers.
Indeed, today, road trips are hard to imagine a drive thru, and McDonald Drive-Thrus represent the ultimate comfort assured to the highway roadie.