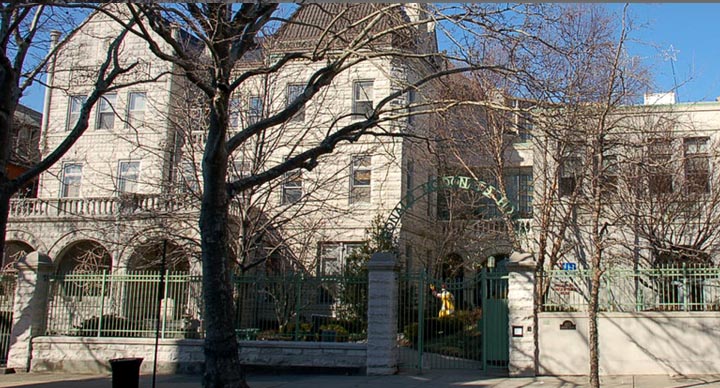 Ronald McDonald House Charities® (RMHC®), includes over 350 Ronald McDonald Houses, and hundreds of other programs, in 63 countries and regions, with the mission of creating, finding and supporting programs that directly improve the health and well-being of children and their families. The Charity began in 1974 with the opening of the Ronald McDonald House in Philadelphia.
Dr. Audrey Evans, later an RMHC co-founder, was working as a pediatric oncologist at The Children's Hospital of Philadelphia when she realized the need for families to have a place to stay while their children were in treatment, and not just any place but a supportive one that took care of their needs during this stressful time in their lives.
Around the same time, the Philadelphia Eagles were fundraising in support of player Fred and his wife Fran Hill's daughter, Kim, who was battling childhood leukemia. Thanks to Leonard Tose, then owner of the Philadelphia Eagles, the team received his undivided support to continue raising funds to help benefit local area hospitals. Stan Lane, neighbor to the Hill family, formed Eagles Fly for Leukemia, to organize fundraising efforts to benefit Kim Hill.
Co-Founder and then General Manager of the Philadelphia Eagles, Jimmy Murray, approached Dr. Lawrence Naiman at St. Christopher's Hospital for Children with proceeds raised by the Eagles. However, Dr. Naiman directed Jimmy to Dr. Evans; stating that she had a greater need for the proceeds. Thus, the first proceeds from the Eagles went towards creating two positive pressure rooms at The Children's Hospital of Philadelphia.
It was then that Dr. Evans told Murray of her vision for a house.
Murray approached Don Tuckerman and Stanley Elkman of Elkman Advertising and came up with an idea that a quarter from every McDonald's Shamrock Shake sold in the Philadelphia region would go towards the purchase of a House located by Dr Audrey Evans. Ed Rensi, President of the McDonald's Region said yes to this proposal and agreed to provide funds from the sale of Shamrock Shakes if McDonald's could name the House.
On October 15, 1974, the world's first Ronald McDonald House was born. The Homes continue to be a "home away from home" where caregivers within a family can find, first and foremost, emotional support by sharing their story with other families experiencing similar situations.