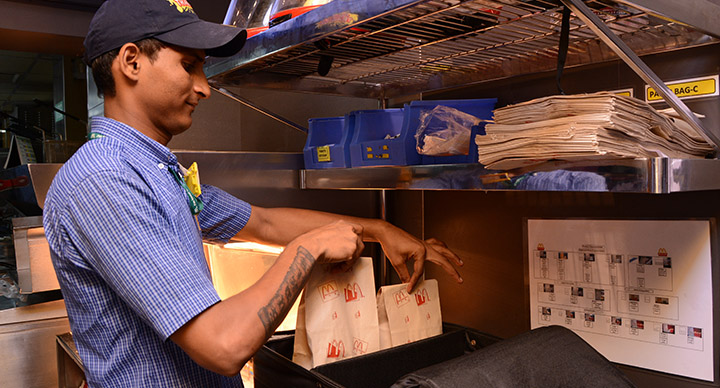 If McDonald's India (West & South) was to treat the business base of its delivery service, McDelivery, as an independent business, it would come up pretty high in the list of food companies in the country. That in itself is a measure of the success of McDelivery and its popularity with McDonald's consumers.
McDelivery was introduced in India in 2004, and from 2011 to 2015, McDelivery sales have grown at 22 per cent CAGR. Of that, its business has grown by over 60% in the last two years itself. The average check for delivery is generally much stronger as compared to in-store business.
The success of the delivery service clearly indicates a growing trend in the Indian Food Services market – consumer preference for convenience of enjoying fresh and tasty food in the comfort of their homes. The advent of smart phones and easy payment options have only made the delivery option more appealing. In the first quarter of FY2016-17, West Life Development continued to see strong growth in sales through its online and mobile platform.
No wonder McDonald's India has made significant investments to strengthen this business. It has also been innovating and accelerating its efforts towards leveraging digital platforms to enhance user-friendly experience on the mobile and web platforms of McDelivery.
McDelivery functions on a strong base of over 125 hubs in over ten cities across west and south India. It is supported by more than 500 bikes and 600 riders, including outsourced riders, at the backend. McDonald's India will continue to grow its consumer base through aggressive growth of its delivery service, among other things. So don't be surprised if you see increasing number of McDelivery agents zipping through your city in times to come – they are on the mission to deliver smiles and delicious burgers to someone just like you.