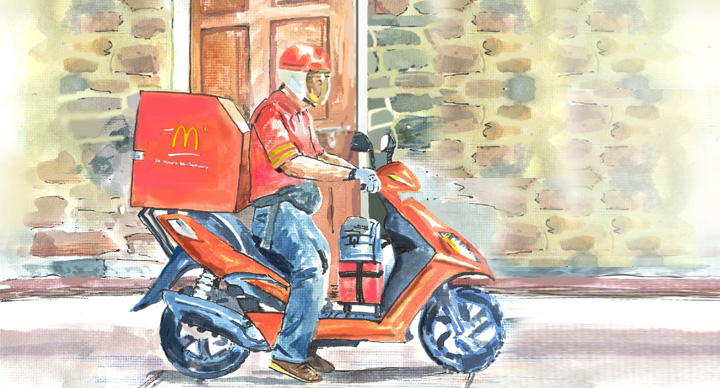 A few days back, Grammarly posted a very apt description of many millennials' idea of their favorite kind of party. The illustration had a girl tucked in her bed with a book and a mug of coffee placed on a side table.
The comfort of sitting at home, all by yourself or with your family or friends and enjoying coffee or food has no substitute. It is the same 'eating out at home' concept that McDonald's is encouraging extensively through McDelivery in order to consolidate the western fast food eat out market.
McDelivery was introduced for the first time in 1993 in some parts of USA before it reached Asian, Middle Eastern and Latin American countries. The service was introduced in India in 2004. So far, it has been mostly offered in cities that include Mumbai, Bangalore, Pune, Hyderabad and Baroda. Currently, the average annual sales from McDelivery hubs is between 5-8 million rupees.
While the reasons behind the popularity of home delivered food can be many, a preference for convenience and the growing usage of smartphones certainly top the list. Online payments are simple. McDonald's recently tied up with mobile wallet portal Freecharge which makes payments even easier.
The delivery industry in India represents great potential although it is still far behind the United States. Current trends suggest that McDelivery has an opportunity to grow enormously as the existing $1billion plus delivery sector continues to widen. From 2011 to 2015, McDelivery sales have grown at 22 per cent CAGR.
McDelivery rests on a solid foundation with 125 hubs in over nine cities. It has a robust backend with over 500 bikes and 600 riders including outsourced riders.