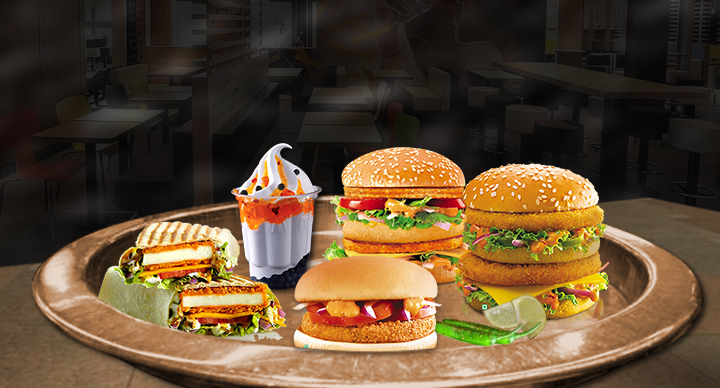 Think global, act local – that maxim is brought forcefully home to every food chain that steps out of home soil. People around the world have come to love their burgers – and yet they love it more when there is a homelike flavour to what's on the menu.
CNN notes that "French visitors to the golden arches can get Le P'titMoutarde, a smaller-size burger with mustard sauce, and they can pair it with a banana caramel shake. Similarly, in Germany, it offers shrimp with cocktail sauce. The 280 Gr. is an Italy-only burger, designed for sophisticated palates — you can get one with real Parmigiano-Reggiano cheese.There's a burger on pita bread for the Greek market and a McKebab for Israel. Naturally, you can get guacamole on your burger in Mexico; you can also order McMolletes — refried beans and salsa on an English muffin."
And in India? Well, here are five menu items that are very "Indian":
1) McAlooTiki Burger
The name says it all. Aloo Tikki, one of the most loved Indian snacks, found a perfect match in a McDonald's bun in the year 2004. Served with tomato, mayo and fresh onions in a regular bun, McAlooTiki continues to be a hit among Indian customers till date.
2) Paneer Salsa Wrap
In India, the first option for vegetarians has always been the ubiquitous paneer. This wrap has fried paneer patty with salad mixtures like lettuce, red cabbage, celery and is garnished with mayonnaise, salsa and cheddar cheese. And in case you are wondering, the mayonnaise used here is vegetarian (eggless) as well.
3) Maharaja Mac
The BigMac of India sans the beef. This menu item was transformed earlier this year by adding flame-grilled version of chicken patties.
4) Veg Maharaja Mac: The World's First Vegetarian Big Mac
For veggies, a vegetarian variant of Maharaja Mac, scrumptiously made with corn and cheese patties is there for the taking. It is also the world's first meat-free Big Mac.
5) Mango McFlurry Topped with Chili Flakes
Who would have thought that an ice-cream could be spicy! Mixing the flavours of a national fruit and the much loved red chillis, this McFlurry is as Indian as can be.