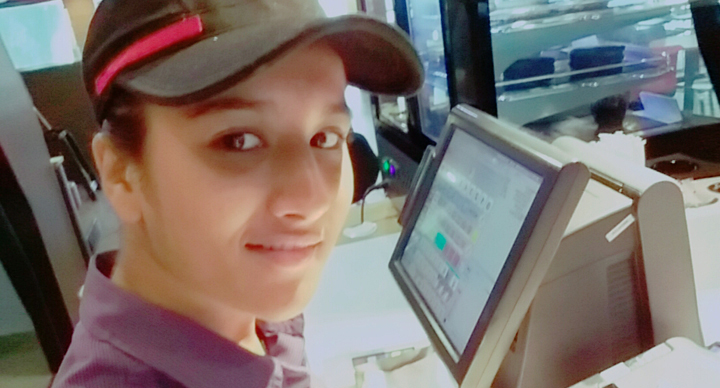 It can be more than a regular summer job or a first pay cheque. It can be that first step in your career where you learn about your strengths and capabilities. As Cody Teets, writer of the book Golden Opportunity: Remarkable Careers that Began at McDonald's aptly puts it, "McDonald's employees learn a lot more than how to flip burgers and work the deep fryer."
McDonald's strives to maintain a work environment that brings out the best in its most important resource: its people. As a result, employees like Ruksaar get an opportunity to build a successful career in a short span of time.
Ruksaar was taken on-board as a Trainee Crew Member at the Mira Bhayandar road store in Mumbai in 2014. She continued to work there for 3 months before being transferred to the McDonald's restaurant at HUB mall .
In only four short months, Ruksaar was promoted to be a Barista. Since then, there was no looking back for her. Ruksaar represented McCafé at the Women's Brewmaster Championship at the Coffee Santhe 2015 and secured the sixth position.
After impressing everyone at the Santhe, Ruksaar presented her coffee skills at McCafé Barista Espressers Championship. And it came as no surprise when she was announced as the ultimate winner of the championship there.
Ruksaar excels in multi-tasking. After her father's demise, she has been taking care of her family business with the help of her mother and continues to work as a barista at McCafé as well.
And And guess what, not only can she brew a delightful cup of coffee but throw a punch too. She has done her college proud in the discipline of Boxing.