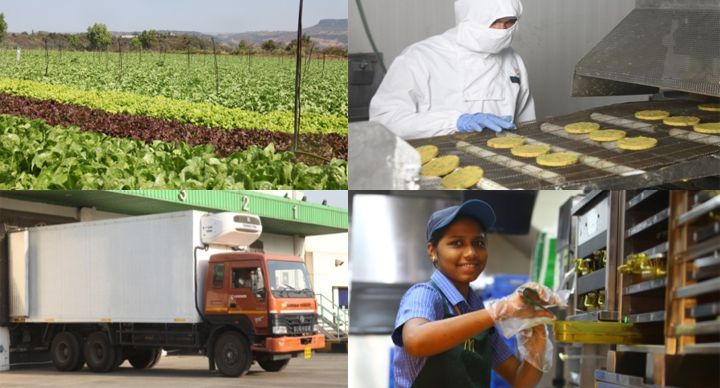 Take a trip down memory lane, and recall the human chain game that you used to play as a kid. The whole team had to perform consistently to win the race, no one could slow down. This analogy applies to McDonald's supply chain as well. With its key elements functioning as a team, the whole chain remains robust, and every element forms a vital link.
This farm to fork tale starts with farmers and suppliers. Long before the first Golden Arches opened in India, McDonald's had teamed with suppliers all over the country to get the best raw ingredients for its products. Back in 1991, McDonald's partnered with McCain Foods Pvt. Ltd to work with farmers in Gujarat to grow the best variety of Shepody potatoes, right here in India.
The other side of this partnership involved McDonald's experts from the world over interacting with agronomists and field assistants to demonstrate the best cultivation practices. Right from improving agronomy techniques like irrigation system, sowing seed treatments, planting methods, fertilizer application programs to planning a better storage methods for the produce, the expertise was passed on to the Indian farmers and suppliers.
So much expertise also brought along the technical know-how of managing a supply chain. McDonald's restaurants which span the whole country needed the backing of effective supply chain technology to deliver what the brand promised – a wholesome meal experience. Enlarging the shelf-life of the produce has been one of the significant contributions of technology. The single and multi-temperature controlled trucks, which are also GPS enabled, are used for transportation. Real time traceability systems, which use an ERP Software, bring efficiency and accuracy to the whole logistics process.
Further, the developments in the supply chain are up to date and in sync with the "Zero Wastage" policy. This policy aims at redesigning the whole production cycle so that no by-products go unrecycled or unused. "The "Zero Waste" concept is designed to encourage brands in minimizing wastage and working towards the goal of generating zero waste. McDonald's suppliers have implemented technology in order to maintain the integrity of our produce during storage and transportation. This endeavor has enabled us to increase the shelf life of our products and cut down on operational wastage," explains Vikram Ogale – Director – National Supply Chain and Quality Assurance, McDonald's India.
Ogale also added that future trends for supply chain management aim at developing infrastructure and increase backend-integration. Moreover, the focus at McDonald's will be on reinventing and reassessing the supply chain strategy and set-up to ensure sustainable sourcing.