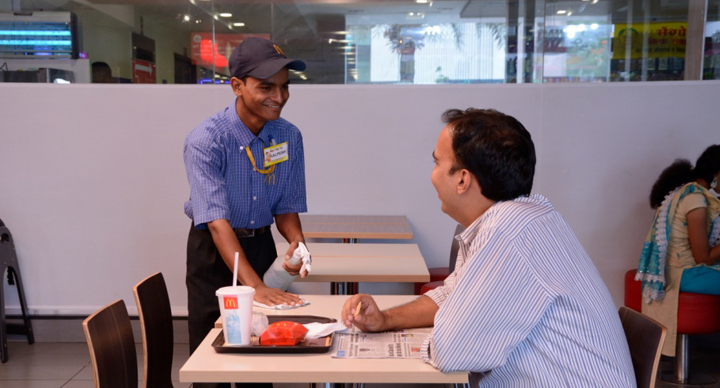 McDonald's has introduced the concept of 'Litter Patrols' in which its employees go around the market every day, picking up garbage left behind not only by customers from McDonald's restaurants but also by other visitors in the area. The result is a cleaner neighbourhood.
Think of one major element which makes a restaurant your favorite. It's most likely that after great food comes cleanliness and hygiene. After all, pleasant surroundings complement the whole meal experience.
Let's take a look at some measures adopted by McDonald's to maintain spick 'n span surroundings. Did you know that you can go up to the Restaurant Manager to ask for restaurant tour? Yes, you can. In any outlet, you will observe there are separate sections for veg n non-veg, down to separate utensils.
Further, every cook wears a proper uniform, caps, and gloves while preparing food. The staff also follows strict cleanliness measures in the seating area and is always alert. Be there a party or one person out there eating alone, the staff always takes care that the patrons are never disappointed because of unclean tables or spilled food.
Quality, Cleanliness, Service and Value – the DNA of McDonald's philosophy brings forward a different perspective of maintaining global standards across all their 35,000 restaurants in 119 countries. Be it a standalone outlet, drive-thru, an outlet in a food court or a kiosk, same levels of service is ensured along with consistent quality and hygiene.