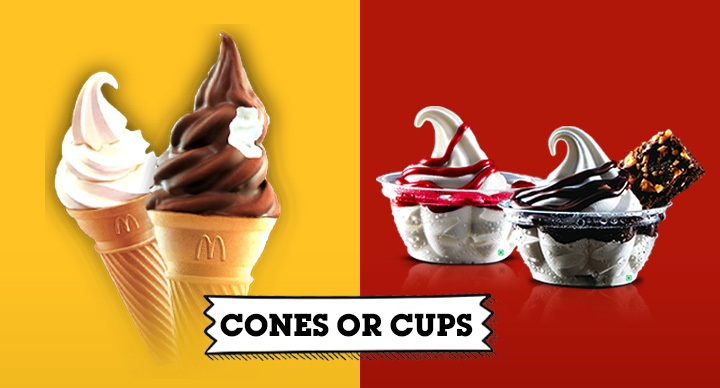 Be it a hot sunny day or a freezing winter day, an ice-cream always has many takers. The dairy dessert impresses everyone, from a kid to oldies. Everybody loves to slurp on the smooth and rich ice-creams of their favorite flavors. Yet even when it comes to ice-cream everyone have their own preferences. There are those who enjoy an ice-cream in a cup and those who want to nibble at the crunchy cones along with it. What's your style of eating an ice-cream?
Let's try to get to the bottom of the cone/cup to discover why people have different styles. First up, camp cone! An interesting tale about the invention of ice-cream cones takes us back 1904 World's fair at St. Louis, Missouri. This fair had about 50 ice-cream vendors with over a dozen waffle stands. The sultry day made the ice-creams a top seller. So when the vendors ran out of paper cups, they rolled waffles in shapes of cones to serve ice creams. And that is how ice-cream cones saw the light of the day.
And then ice-cream cones came to McDonald's. Did you know no two cones at McDonald's are the same? Every server and store have different styles of making the cones, so if one loops the soft serve ice-cream into a cone in three swirls, the other would gush it right down the cone's tail and let gravity do rest of the work. The perfect balance of bite and crunch is what makes a McDonald's ice-cream cone a delectable treat. The uninhibited and undeterred food lovers love soft serve ice-creams in cones.
On the opposite side, there are the humble cup lovers, who like to relish every spoonful with equal pleasure. They like to sit down with a cup-full (or more likely a tub of ice-cream) and spend good time enjoying the smooth texture of their much-loved dessert. There's always an option of adding toppings over the ice-cream, like fruit bits, nuts, chocolate chips to make your dessert even yummier. But, there are also those who like to enjoy their sweet delights plain and simple, and want nothing to come in between.
At McDonald's, you can find it all, to suit your ice-cream eating style. If you love cones as much as you love ice-creams, McDonald's serves its smooth vanilla soft serve ice cream in waffle cones. Chocolate and Butterscotch coating make the ice-cream an all-rounder dessert. The Soft Serve with strawberry and chocolate sauce is best enjoyed in cups. Also try out the Chocolate Brownie Soft Serve and McFlurry to enjoy a crunchy and creamy dessert.