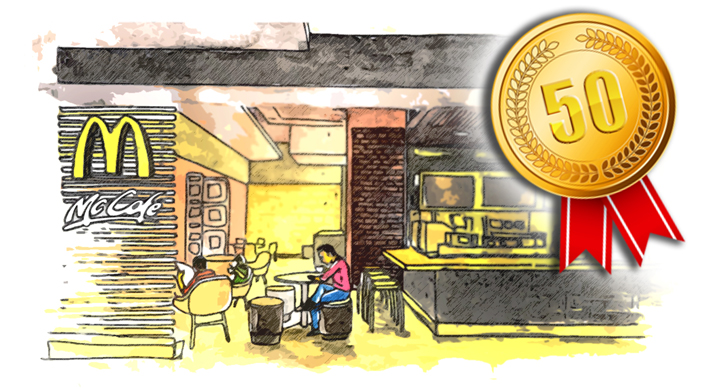 The 50th McCafe opened its doors at R-City, Ghatkopar, less than 2 years since the first McCafe started serving up coffee from the finest Arabica beans. The fast rollout of McCafe is driven by the ambition to become the beverage destination of choice, both in terms of value and range on offer.  With the inclusion of McCafé, McDonald's is able to offer consumers something new to experience. McCafé is a key driver in optimizing the use of restaurants during operational hours. One of the reasons for the speedy rollout is the store-in-store format.
According to a Technopak report, the Indian coffee chain market is estimated at Rs 1,820 crore in 2014 and is expected to reach Rs 5,430 crore by 2020.  The national coffee chain business is expected to grow at a CAGR of 20% in value and accounts for around 27% of the overall café market (Rs 6,750 cr).
McDonald's plans to open up to 75 McCafé's by December 2015 and double the base in the next 12-18 months with capital investments of Rs. 30-35 lakhs per McCafé.
The range of beverages available is not restricted to coffee. Recently, McCafe took the next step in the beverage expansion strategy with the launch of Real Fruit Smoothies in three flavours; Mango, Passion Fruit and Mixed Berry.