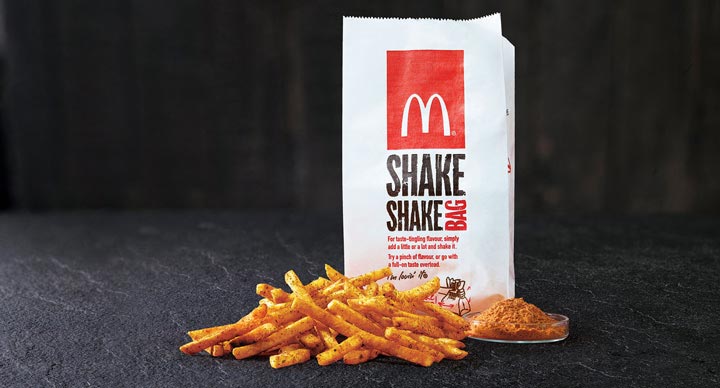 There are different kinds of foodies, some are dessert diggers, some are meat masters, and some appetizer aficionados. But none can refuse the fantastic French fries, and the way they eat says a lot about their personality.
Chef Tushar from McCain's has prepared a list of 5 personality types based on the way you eat your French fries and they make for a very interesting read. So now you can analyze your friend's and your better half's personality at a fraction of the cost were you to go to a psychiatrist. And McDonald's guarantees that it will be the tastiest "meeting"!
1. One piece at a time:
If one does not like any mess around their food and prefer eating one piece of fry at a time no matter in what a hurry they are, then they are in for a treat. Such a tendency reveals that such people are detail-oriented, light-hearted, keen and observant.
Top two words that suit you well: Chilled out, stress free.
2. Handful of fries together:
This kind of a habit can be a key indicator towards a person's worried mind. It is said that the people who stuff their mouth with more than two or three fries at a time are hyperactive in nature.
Top two words that suit you well: Restless, self-conscious
3. No hands required:
There is a certain category of people who will not touch their food! They will use all the possible means of utensils around them to eat their fries. A very prominent trait of such people is that they are critical.
Top two words that suit them well: Paranoid, focused.
4. Seasoning required:
There is a group of people who cannot do with just fries. They would want to garnish it with all sorts of seasoning. From just salt and pepper to peri-peri, oregano and chili flakes, these kind of people always want more in their life.
Top two words that suit them well: Rovers, Confident.
5. Do not forget the dips:
Eating fries without dips is a big no for some. From ketchup to exotic Thai chili sauce, these people would want some dip to go with their fries. A very basic trait of this category is that they love to spend.
Top two words that suit them well: Gregarious, Conversationalist.
Here's how you can find out more about the personality traits derived from a person's style of eating fries.