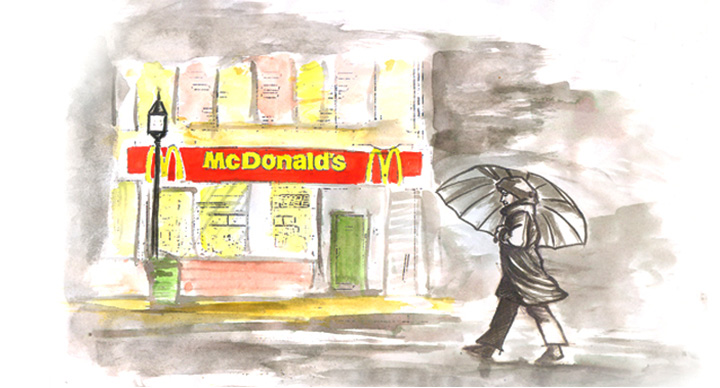 Groggy from his sleep Mohan woke up to a gray morning of rain. He waited and waited for the clouds to clear, without any respite. By now his stomach was grumbling. He gazed out of his fourth-floor apartment window, only to see the rain pouring heavily. Just when he was about to turn back his eye caught some color a small distance away. It was the Golden Arches! He couldn't linger a moment longer, smiling ear-to-ear he put on his hoodie, grabbed an umbrella, and dashed out of his building. Hopping over the puddles on the street, he reached McDonald's. The warm and bright restaurant with the fragrance of the sizzling patties on the grill was welcoming enough. He knew in an instant that he was getting not one but both his favorite burgers – the Chicken Maharaja Mac to douse those ravenous hunger pangs, and McVeggie, because it always reminded him of his mother's 'pakoras' and cutlets which she made on such rainy days. Taking every bite slowly and relishing the taste of the perfectly made burger, he wondered to himself what all goes into that burger.
Here's how they make it so good.
Starting with the buns, McDonald's burgers have three varieties – the regular whole wheat buns, sesame buns and focaccia buns. The McVeggie, McSpicyPaneer, Chicken Maharaj Mac, McSpicy Chicken, and McChicken burgers come with sesame toasted buns, the rest with regular buns. But one can always ask for focaccia buns as well.
Up next, hero of all the burgers – the patty, McDonald's has a variety of vegetarian and chicken burgers. The McVeggie burger patty is made out of mashing green peas, carrots, green beans, onions, potatoes with some rice flour. Everybody's favourite AlooTikki is made up of mashed potatoes and green peas. McSpicyPaneer comes with a big chunk of paneer coated with breadcrumbs, flavoured with spices. The egg patty is solely made of steamed eggs, shaped into discs. All the chicken patties are forged from minced chicken, and then grilled to perfection with a dash of spices. Lastly, the soft fish filets are made up of fresh and firm pieces of fish, coated with breadcrumbs.
What's life without some spice! McDonald's uses a multitude of flavour-packed spices sourced from Kerala in its burgers. Apart from the staple salt and pepper, garam masala, bay leaves, ground ginger, garlic powder, paprika, cinnamon, and a special magic masala are added to the burgers, as per the recipes.
The smooth and savoury sauces enhance the taste completely. McDonald's has not one or two but about ten types of sauces that are used in burgers. The eggless mayonnaise in McVeggie, sweet tomato for McAlooTIkki, tandoori mayo for McSpicyPaneer and Chicken, chilli sauce for Masala Grill Veg and Chicken, tangy tartar for Filet-O-Fish, a smokey sauce in the Maharaja Mac, Chicken McGrill with mint sauce, a special sandwich sauce for McChciken and the simple all-time classic mayonnaise for McEgg. And then there's of course, tomato ketchup!
A little crunch and ooze from fresh tomatoes, onions, and lettuce over the patty, between the toasted buns brings around the burger gorgeously. And how can we forget cheese? When every bite is filled with gooey and creamy richness, none can resist it.
Another irresistible fact is that McDonald's ensures high quality and freshness of all the ingredients by performing standardized tests and routine checks in all its facilities. All the ingredients are sourced from 35 different suppliers within India. The Cold Chain unit of McDonald's makes it possible to deliver all goods fully intact to the stores. So every time a customer orders a burger, it is fresh, juicy, and simply appetizing.