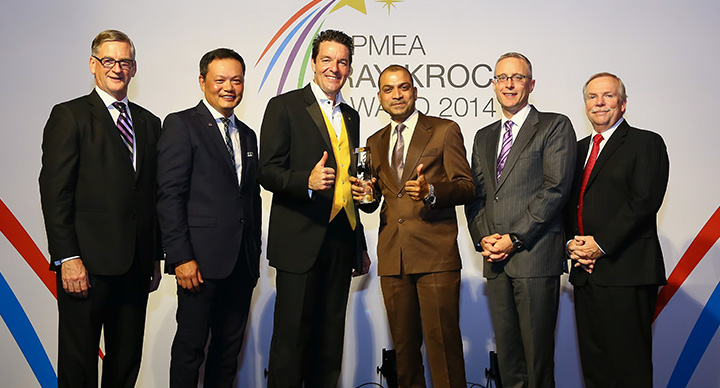 "The white shirt that Abbas wore", is what he says when I asked what has made him stay with McDonald's for the last 9 years. Rajesh Macwan, Restaurant Manager, Alpha G Corp, Ahmedabad, has won this year's Ray Kroc Award, given to the top 1% restaurants across APMEA.
Rajesh Macwan joined in 2006 as a Trainee Crew Member at Himalaya Mall, Ahmedabad and cleared the GCAP (Graduate Career Advancement Program) within 6 months and became the Restaurant Manager much before many others that he'd worked under.
Who does he attribute his success to? "I've worked under different managers, and they've all taught me so much more than work. The most important thing that I've learnt so far is to  believe in yourself and know the people who work with you, to let them know that you care for them, beyond work. That belief alone, can accomplish more than what you'd ever expect".
It's been 9 years, and counting. "Some of my fondest memories are when Adi (Aditya Pokhriya, Operations Director) visited me in the restaurant and told me that come what may, he will ensure I wear that White shirt (Restaurant's Manger Uniform). It meant a lot, when you know that there are people who believe in you, more than you believe in yourself. And that's when you push yourself harder; to be the person they want you to be. It wasn't easy- working in the restaurant and then preparing for the assessments. It demanded giving up on personal commitments at times. But it's been worth it" , says Rajesh.
"My wife is more overjoyed than I am," he says. "There isn't a single friend, family member or relative who doesn't know about my achievement and it's all because of her."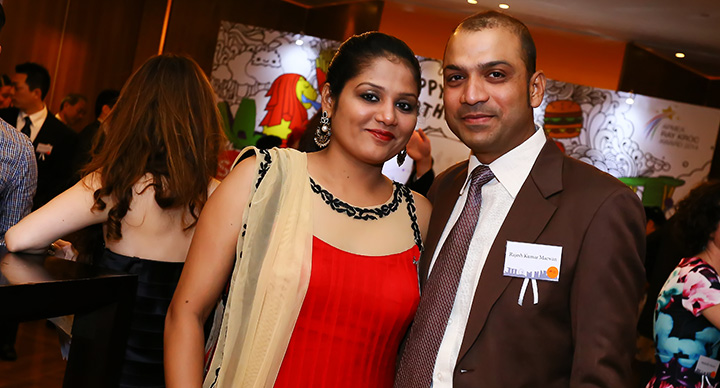 "I'm very proud of my husband, and grateful for the opportunity he got and represented our country at such a big forum. I used to joke, that he married McDonald's before he married me, so was his passion and dedication towards his responsibilities. And all that hard work seems to have paid off," says Asha, Rajesh's wife.
"McDonald's means a lot to him and to us", says Rajesh's dad. "This job has made him an independent person, a better husband and a better father."
What does he do when he is not at the restaurant? "He is a doting father to our three year old daughter, Rechelle. He gets her ready, drops her and picks her up from school, and gets her a chocolate every day! The dad-daughter duo plays till late night every day. When he is not with her, he loves playing cricket and dancing," mentions Asha .
"It's about getting better every day. McDonald's is my first job. I've found my friends, who've been my family, my pillar of strength all these years. It's been a roller coaster ride, and there's still a long, long way to go", he says, when asked what does the future hold for him.